Open Media
Local knowledge, international experience
The management and team at Open Media's Portuguese offices have been active in the publishing business in Portugal since the mid-1980s and bring together a wealth of experience. Our Portuguese company, Open Media SA, operates a group of subsidiary companies in Portugal and has expanded into foreign markets through joint-venture partnerships. The publications produced by Open Media are founded on a principal of in-depth knowledge of their respective destination coupled with international know-how.
---
Management
---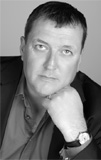 Bruce Hawker
Founding partner & CEO
Bruce started his career in advertising sales in Portugal moving into publishing
and later the design and advertising business working on many of Portugal's landmark projects during the 1990's. He returned to publishing in 2000 with the launch of Essential Algarve
and today oversees Open Media's expansion into new markets along with his role as managing director and CEO of the company.
---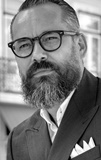 Fernando Caetano
Project director & partner
Fernando's background is in graphic design.
Moving into creative direction and later management he has worked together with Bruce Hawker on numerous projects over more than 20 years. He was responsible for the launch of Essential Lisboa is 2004 and the group's watch magazine "12" in 2007 whilst also playing an important role in the company's expansion into new markets.
---
Publications
---